As a full-service, family-friendly vision clinic, we pride ourselves on providing comprehensive eye care for you and your loved ones. Whether you're updating your lens prescription, looking for help managing your child's myopia, or your parents are developing early signs of presbyopia, we're ready to support your family in every way we can.
The first step, though, is an eye exam.
But how do you prepare for an eye exam? And are there differences between the types of eye exams we perform?
Let's take some time to look at the eye exam process and the various ways you could help enhance your experience with just a little bit of preparation.
If you have any questions or concerns about your eye exam, please get in touch with us today! We're happy to walk you through our process and provide a clear vision of what you can expect when you come in for an appointment.
What You Need for Every Eye Exam
We believe that eye exams are an essential part of your family's health care routine, so we recommend visiting us regularly to get your family's eyes checked.
We'll recommend how often you and your loved ones should have an eye exam based on their eye and overall health situation, but there are a few things we always suggest bringing for every exam.
Before you come to your exam, please remember to:
Prepare a list of questions or concerns regarding your eye health and vision.
Collect information about your overall health and make sure it's up to date.
Make a list of all the medications you're currently taking.
Gather relevant information about your family's overall and eye health history.
Bring your current pair of eyeglasses or contact lenses.
Bring your insurance information.
Bring information about your primary health care provider.
In some cases, we may use eye drops to dilate your pupils, which can help us detect certain eye diseases and conditions. These eye drops can blur your vision for a short time, so we recommend bringing someone with you to drive you home or plan for alternative transportation.
We'll let you know before the exam if we may need to dilate your pupils.
Preparing Your Child for an Eye Exam
Eye exams are just as important for children as it is for adults, but you may need to take some extra steps to prepare your child for their appointment based on their age and eye care needs.
Much of what you need to bring to your child's eye exam is listed in the previous section. Still, if your child is nervous about visiting the doctor or is having their first exam, these tips can help ensure your child is relaxed and comfortable throughout their appointment:
Let them know their optometrist is here to help them.
Let them ask you questions about their exam, and be honest with your answers.
Stay with them throughout their appointment.
Young children might have difficulty determining or communicating that they have an eye or vision problem, but there are various behaviors you could look for to tell if they are struggling with their sight. Some of the most common signs include:
Squinting
Regular headaches
Head tilting
Being close to objects to see
Difficulty concentrating
Reading problems
Frequent eye rubbing
Please let us know when you and your child come in for the exam if you notice these issues. Concerns like these could indicate a problem that may affect your child's quality of life, like nearsightedness, farsightedness, or astigmatism.
Getting Ready for a Contact Lens Exam & Fitting
While we love our fabulous selection of designer eyeglasses, there's no denying that contact lenses are just as capable of providing crisp, clear vision. But should you expect any differences between a contact lens exam and fitting and a routine eye exam?
For the most part, contact lens exams follow very similar steps as our routine eye exam process, but with a few differences to help ensure your contact lenses feel comfortable and provide clear vision.
During a contact lens exam and fitting, we'll assess:
Your vision quality
Your tear film
Your eye's shape and size
Your lifestyle and living environment
We'll use a few different technologies and techniques during a contact lens exam and fitting, including a corneal topographer. Corneal topography analyzes the shape and health of your cornea, which can help us detect issues like keratoconus.
Even though most people are candidates for contact lenses, we may not recommend them if you have overly dry eyes, struggle with recurring allergies, live in a dusty or dirty environment, or frequently develop eye infections.
What to Expect from Your Laser Eye Surgery Consultation
If you live with nearsightedness, farsightedness, or astigmatism, you may have wondered about how laser eye surgery could correct your vision. While these procedures are among the most popular elective surgeries in the country, it's important to know not everyone is a candidate for them.
Before we can recommend laser eye surgery and put you in touch with an ophthalmologist, we first have to determine if you're a candidate during a consultation. Laser eye surgery consultations are a unique eye exam process we orient to assess your candidacy and which procedure may be best suited to your needs.
However, we may not recommend laser eye surgery if you have:
Overly dry eyes
Glaucoma
Cataracts
Keratoconus (thin corneas)
A high lens prescription
Overall health conditions like diabetes or rheumatoid arthritis
If you're not a candidate for laser eye surgery, we'll be more than happy to look for alternative ways to help you achieve clear vision.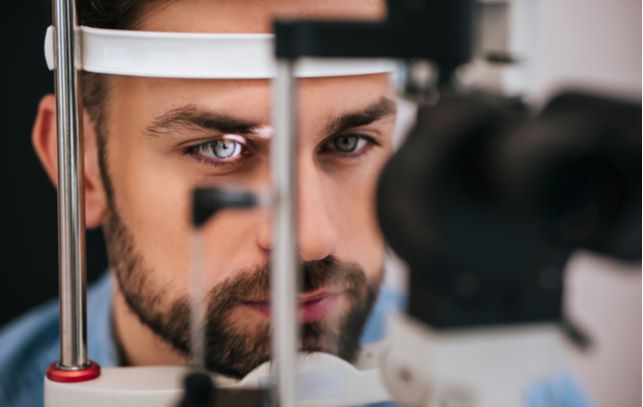 Ready for a New Perspective?
Eye exams are an essential part of managing your eye health and helping you achieve clear vision, but it's easy to prepare for them no matter what type of eye exam you're having.
If you have specific questions about your or your family's eye care experience, don't hesitate to call us today!